Bobcat Decal Placement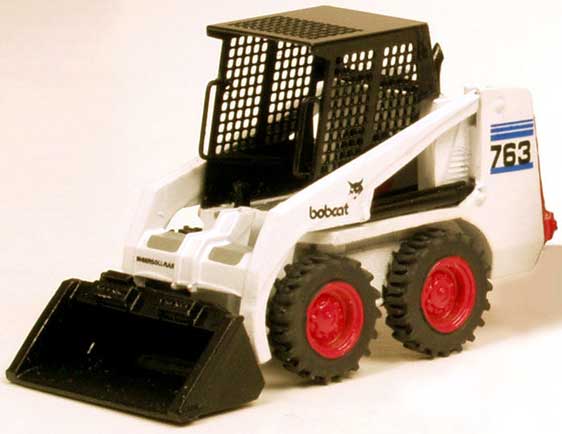 Photo 1

We are very pleased to present our factory authorized Bobcat decals (#12046). We have included several photos and tips here to assist in painting and applying decals to your model.

Recommended Paint Colors

Testors Classic Black - bucket, cab protector, exhaust stack, hydraulic cylinders, rear vent, operator's seat

Testors Chevrolet Eng. Red - wheels, engine cover

Testors Steel Non Buffing Metalizer - backup lights (refer to Photo 2), front headlights if added (see below)

Testors Flat Black - tires

Testors Classic White - overall body color

Testors Stop Light Red Metallic - all 6 light molds near bottom of engine cover



Photo 2

Photo 3

Suggested Enhancements To GHQ Kit

Instrument Panel & Front Lights - Recommend that instrument panel decals be cut from decal sheet but not removed from decal backing paper. Glue decal (still on backing paper) into upper inside corners of cab guard, facing operator seat. Paint back of decal backing paper (which is facing forward) gloss black. Cut small plastic rectangles, paint steel, and glue to front as shown in Photo 3.

Hand Grabs - These are Detail Associates #6602 (Grab Irons - Roof 24") made for railroad model freight cars

Exhaust Stack - Bend supplied exhaust stack at halfway point as shown in Photo 1.


General Decal Application Instructions

Cut decal from backing sheet, trimming as closely as possible to the printed image.

Soak decal in water for 10 seconds, remove decal from water and place on paper towel for 40-60 seconds until decal slides easily on decal backing paper.

Cover the area where decal will be placed with Microscale Micro Set (blue label) with a soft model paint brush. This allows easy positioning of decal to desired location.

Carefully slide decal from backing paper onto model.

Using a paper towel, carefully "wick" or blot away excess water and Micro Set from decal when in final location.

Apply Microscale Micro Sol (red label) with soft model paint brush to help decal "snuggle down" and conform to model surface. If air bubbles appear under decal, prick with straight pin and apply more Micro Sol to the area.

When all decals are applied and model is dry, rinse in warm water to remove excess Micro Sol and let dry.

To protect decals, spray with Testors Gloss, Semi-Gloss, or Flat (depending on how much "shine" you want on your Bobcat) overcoat. Spray light coats from airbrush or spray can.

Note: Decals should only be applied to a gloss finish. If your model has been painted with flat paints we recommend you spray with gloss coat before decal application. If you desire a flat or semi-gloss finish on the final model, spray your desired top coat after decal application.

Also available in Adobe Acrobat PDF format.